About The Book
I always knew that the book would be titled 'Beyond Pregnancy Loss'. What I didn't realise was how challenging it would be to decide what would ultimately be written between the front and back covers.  While the initial concept was to write a short eBook that encouraged individuals to revisit each stage of their loss to enable a greater understanding of how they could embrace the experience, learn and grow, it very quickly became more than that.
With each person I spoke to I realised more and more that this was not a small project.  This was an opportunity to create a pilgrimage of sorts for people to embark upon when they felt that it was the right time for them.  In its development the book has become two parallel processes, the first is the revisiting of each critical stage and the second is the interwoven thread of the emotional healing journey – hence the subtitle "From Heartbreak to Healing".
And what about the eBook?  The concept has grown well past the suggested page length for an eBook and it also became abundantly aware to me that those who will appreciate it the most would prefer to be reading this in the privacy of their home perhaps curled up on the couch with a few tissues rather than on the computer screen but one year on, I have been so encouraged by the response and demands for an electronic version that I have recently completed an abridged digital version which is now available for purchase in conjunction with the digital Companion Workbook.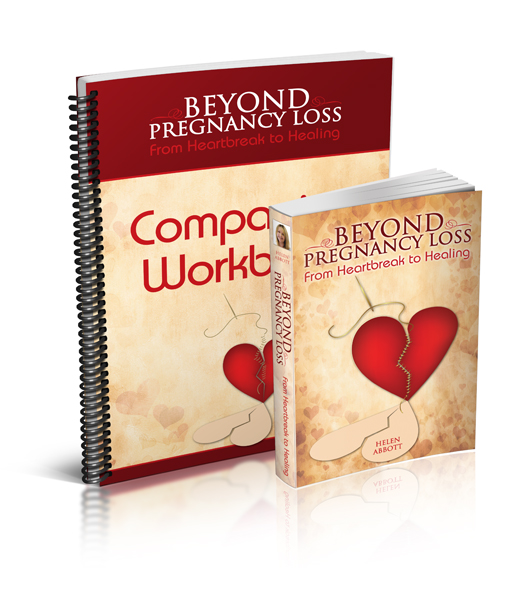 My initial intentions were to write this book for women and their partners who had experienced a loss to help them understand how to reach a place of greater healing if that is what they wanted.  What I discovered during my many months of research is that grandparents, aunts, uncles and close friends are often feeling similar levels of grief and anguish over the same loss.  Their pain and sadness is very real and their need for guidance and support is just as valid.
Throughout the book I use the words we and us and in doing this I am speaking to anyone who has experienced this loss physically or emotionally and is still in need of comfort and clarity about how they are feeling.
If you have been touched by the loss of a baby then this book is for you. To learn more please visit my Beyond Pregnancy Loss website.